Make your own beats
with the free Music Maker from MAGIX
A catchy beat is the basis for any good song.
This isn't just true for hip hop, but also for other music genres such as disco, pop or rock. Producers of every genre put much consideration into finding just the right beat and tone for all their productions. You don't have to be a professional music producer to create your own beats and you can easily make music yourself. With the right software, Music Maker, even beginners can make their own beats and start producing their own music right away.
Making music is easy with MAGIX Music Maker. Simply install the program and start creating – it's that easy! The music editing program Music Maker allows users to get started right away. Operating the program is so easy to learn that even beginners can immediately start making their own beats. Directly after installation, soundloops can be arranged and combined to create a unique beat for any genre of music. With thousands of loops included from various genres that can be combined with each other, there are no limits to your creative freedom.
Additionally, the drum machines included in the program such as Beat Box 2 allows you to create entirely unique grooves and sounds. With the various drum kits, sounds and effects, you can create and record beats just as you like. Even expand the sound archive with the Soundpool DVD Collections from MAGIX to build you library and have access to an even more diverse assortment of beats, grooves and sounds.
The help feature and descriptive tutorials offer additional tips and answer questions concerning the program functions. You'll be creating your own beats in no time!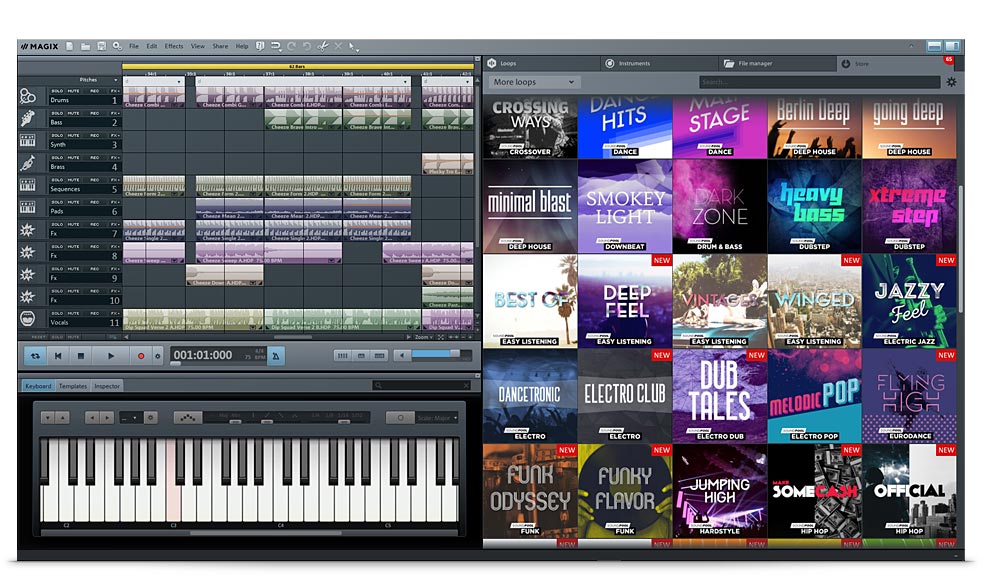 Make your own beats
- No prior knowledge of music or digital music production required -
Create you own songs and sound. 100 % your beats. 100 % legal.The advantage with software like Music Maker is that it includes numerous drumloops and basslines to add to the music you create and can be published legally as long as no commercial aims are being pursued. Users who try out free software that does not contain any soundpools have to resort to other sources. With Music Maker it's easy to make your own beats and you know that with the loops that you are using, your music is produced legally. This is also important, for example, when samples are used from other songs by other artists. Otherwise it can easily cause problems if a completed song is published on online video platforms or in a beat or hip-hop community and an artist then becomes aware of the copyright infringement. What was initially free could then become pretty expensive.Music Maker is the ideal software for beginners to make their own beats. The wide range of program features allow you to not only combine various professional sounds, but also make your own beats all on your own, enhance them with effects, mix the completed project and then publish it online, on a CD or DVD. Additionally, you can record your own melodies and vocals with virtual instruments, synthesizers and sequencers and take your beats to the next level.