Produce Unique '80s Songs
in 3 Easy Steps

Did you know you can recreate any '80s genre with MUSIC MAKER? Right at your fingertips are the sounds of the influential decade that brought us Hairspray Metal, Hip Hop and New Wave. Discover Pumping basslines, legendary drum machines and instantly-recognizable synth leads and bring back '80s music with the huge variety of sounds, plug-ins and instruments available with MUSIC MAKER PREMIUM.
Take a trip back in time
Step 1: pick a retro Soundpool

Do you want to sound like Blondie, Duran Duran, Run DMC, Queen, Human League, Pet Shop Boys, Kraftwerk, New Order or Depeche Mode? MUSIC MAKER PREMIUM offers '80s Soundpools that sound like the real deal: mighty synthesizers, iconic '80s drum machine sounds such as the 808 and a whole lot of nostalgia. Browse through thousands of sample loops and get inspired! Simply drag & drop the loops you like to combine and arrange them, exactly how you want.

Discover a world of '80s-influenced sounds and styles and choose from more than 570 Soundpools and over 70 Soundpool Collections to create your very own '80s anthem.




What a feeling!
Step 2: choose authentic sounds 
& instruments

To get that extra '80s magic in your tracks, just add a virtual instrument of your choice in MUSIC MAKER PREMIUM. For example, add atmospheric sounds to your Synthwave soundtrack with Space Pad or tap into Analog Synths with more than 450 presets from legendary hardware synthesizers that shaped the sound of the decade. Go one step further and connect a MIDI controller or a microphone to add your own recordings to your Synthwave soundtrack. Take your passion and make it happen!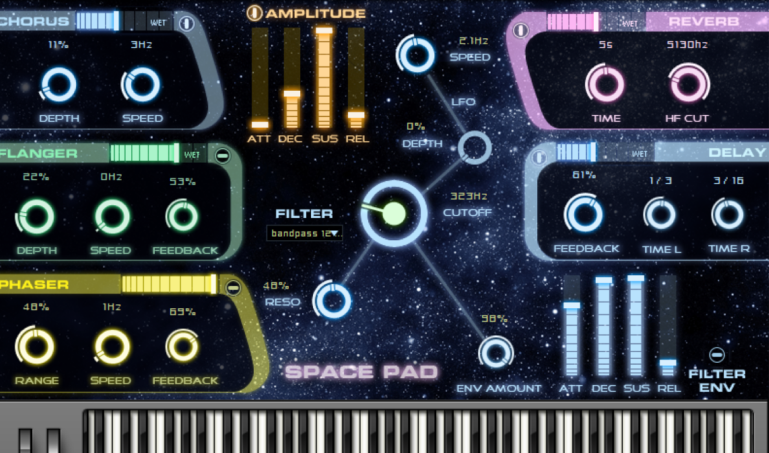 Get lost in Space with Space Pad
Don't miss out on this one if you want to create dreamy '80s pop. Space Pad lets you combine several effect modules and offers everything from delicate, subtle pads to abstract, shimmering sounds.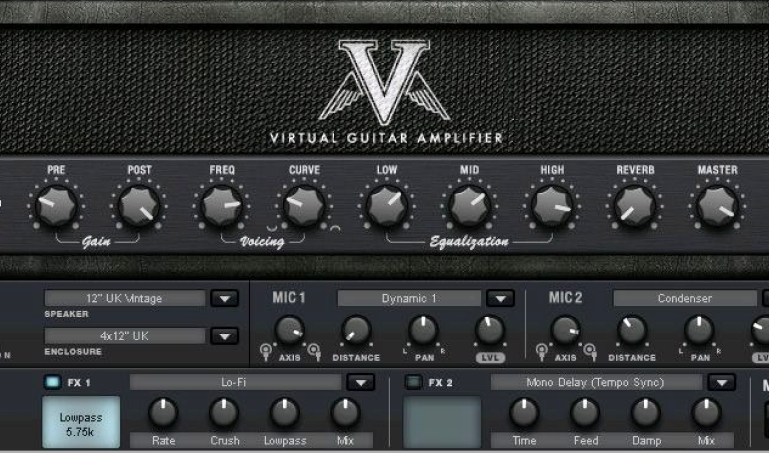 Vandal SE: Sounds like Real 80s Rock
Wilder than the haircuts from the '80s: Vandal SE is a genuine guitar amplifier that brings a touch of rock to any track. This versatile amp plug-in has a mercilessly honest sound. Works for guitar, bass or even vocals.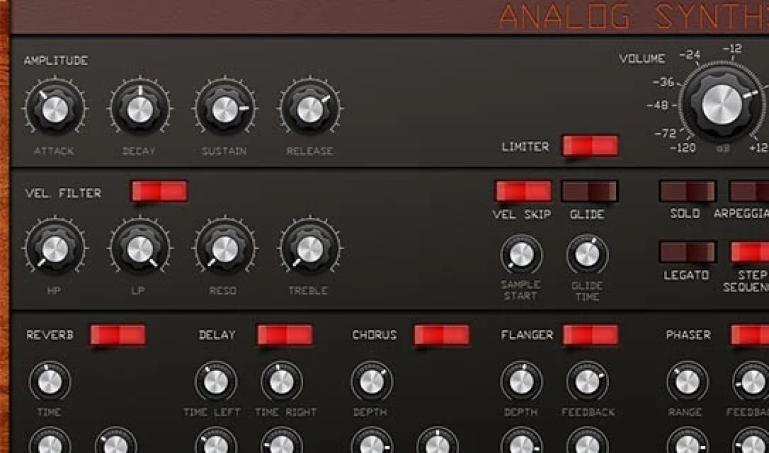 Authentic Retro Sounds wih Analog Synths
This virtual synthesizer emulates the analog sounds of legendary hardware synthesizers with total precision. And with its retro design, you'll be transported right back into analog times.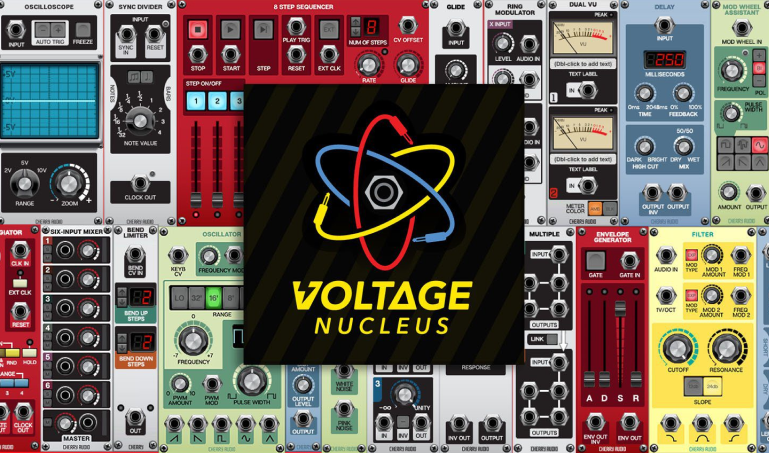 Synth Heaven with Voltage Modular Nucleus
Pump up your tracks with this easy-to-use powerhouse collection of modular synthesizer madness. The Voltage Nucleus includes 22 modules and over 130 professionally programmed presets.
The way you like it
Step 3: Use effects to match your style

As colorful as the '80s: MUSIC MAKER's effects section offers anything from echo, wah-wahs, chorus and distortion effects, gated reverb, slapback and ping pong delay + many more. Effect presets make it easy for you to create signature retrowave tracks, while countless professional plug-ins help you to develop your own sound. Get started now and send your music on a trip through time!
coreFX Chorus
Not to be missed in any '80s song: create fuller, warmer vocals, guitars and synths. Explore a range of classic chorus effects for synth pop, guitar-heavy ballads or create futuristic alienated vocals.
wizardFX Bitcrusher
Looking for authentic lo-fi sound? By reducing the bandwidth of the audio to lower sample and bit rates, this practical effects plug-in will take your sound straight back to the 80s at the click of a button.
Still haven't found
what you're looking for?
Get started with your own '80s hits!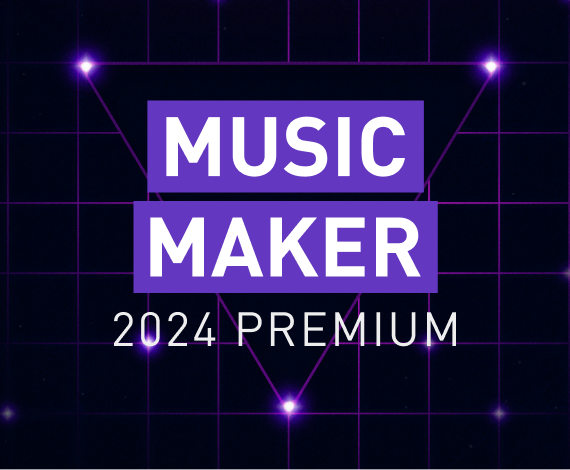 PREMIUM: A TRUE MUST-HAVE
MUSIC MAKER lets you easily produce songs by dragging and dropping sample loops. Build your songs with a few clicks and level up with MUSIC MAKER PREMIUM for added pro features.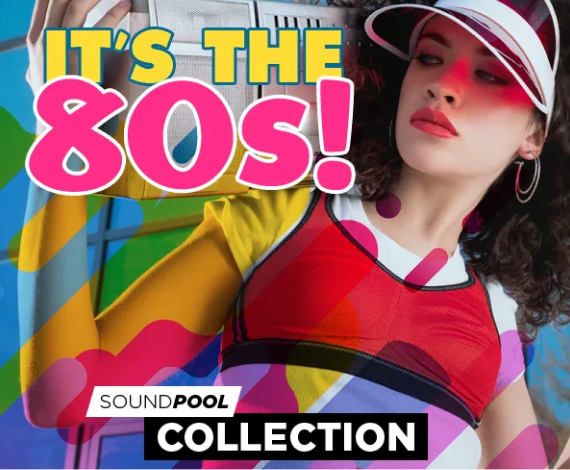 THIS COLLECTION IS FOR YOU!
Pure retro sounds: included in this collection are more than 4,500 sounds & loops. These six Soundpools are perfect for creating a nostalgia-tinged chart hit straight from a golden decade of music!