3D design in video making – MAGIX makes it easy
3D design is fast becoming an important aspect of video making. Home video solutions have begun to include post production 3D design options.
These however fall short when users wish to create true 3D design options using two video sources. The two images can be combined using a variety of stereoscopic image combinations and dividers. The human eye works just like the ear. Two images are used to determine depth, distance and the position of an object in the real world. While separating two images by using a variety of methods, each eye sees a different visual aspect of a 2 dimensional image creating the illusion of a 3D design.
Post production 3D design is used when only a single video or image source is available. Since many recordings in the past and still many in the present are made with only a single source, if users wish to create 3D design options using single sourced images, modifications must be made to the image itself. These images are not true 3D images, but can add depth to a picture and add a little fun to a slideshow or video. The limitation, of course, that the final image will be flat, but objects can still appear in either the foreground or background. True 3D design is created by combining two images taken at a certain distance apart. This produces a depth that is much more life-like.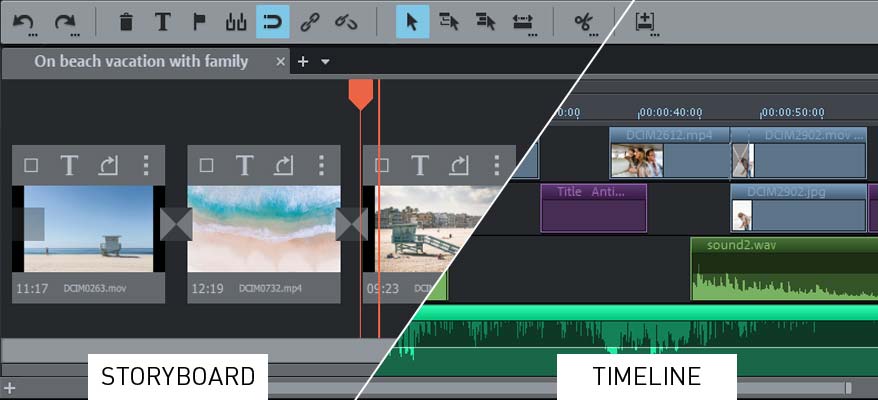 Post production 3D Design vs. True 3D Design
MAGIX Movie Edit Pro is video editing software that's rapidly evolving and continues to be on the forefront of the industry. The latest version enables users to actually edit 3D material. You don't even have to have a 3D camera to enjoy the use of this new feature. It is a must have video editing program for consumers working in standard definition, high definition, AVCHD, and Blu-ray; and is now ready to create breathtaking 3D movies that will jump out at your audience.With this new version you can also experience the 4th dimension of video editing: speed. With the fastest Magix Movie Edit Pro, perfect results, even in 3D design, are ready in no time.
* With the update service you will receive a full year of free new features and updates, which can be used indefinitely. If you reinstall the program after one year, you will have access to the basic version. After the one-year update service has expired, you can extend it for a discounted price.