Movie making software allows users to bring the studio home
The cutting room floor of the silver screen age of Hollywood movies is long past.
We have come a long way since then, especially in the technologic aspect of film making. This means for editors that by using movie making software, all edits can be made in a non-destructive manner to the original footage. How this works with MAGIX products and Movie Edit Pro Plus, is that the footage is dealt with as a whole object. When a videographer or editor uses effects, cuts and transitions, these actions are recorded and calculated within the project and not applied to the original footage to preserve the recording.
With MAGIX Movie Edit Pro PLUS, the video is loaded into the movie making software, and the effects and cuts are applied during the export of the final video project. This leaves a video editor with both the original file and the edited and completed project. If additional effects or changes need to be made, they can load the video project file and re-export the file again, replacing the formerly created file, or creating a new file. That way each stage or the editing process is available for the user to revert back or continue editing. Users can also load completed projects and apply their own cuts and fixes. Movies are generally made from several different video components and audio information. This can be edited within movie making software packages, either as separate objects or grouped ones.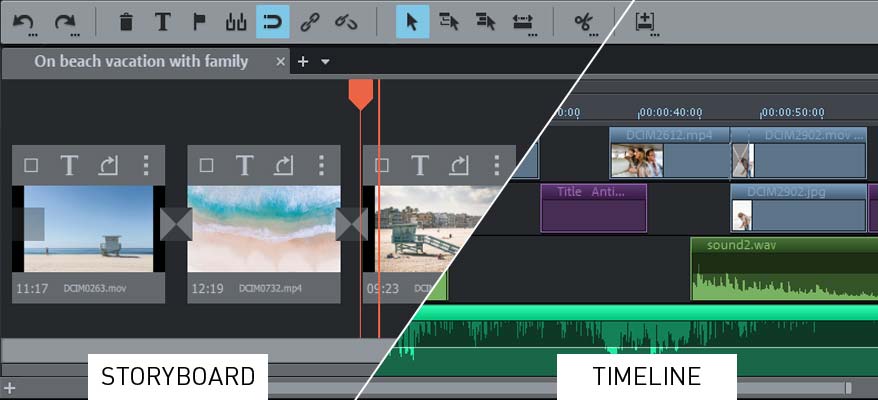 How movie making software edits footage
Detailed video sound options give users a full suite of options including Dolby 5.1 Creator, in both their professional video editing software and consumer editing packages. Sound is especially important when dealing with video content that is meant for the creation of a music video. Sync issues, and having a full audio mastering suite embedded within the program gives the creative community a powerful self-marketing tool.
* With the update service you will receive a full year of free new features and updates, which can be used indefinitely. If you reinstall the program after one year, you will have access to the basic version. After the one-year update service has expired, you can extend it for a discounted price.