Which program allows me to convert AAC to MP3?
Some programs for ripping music from CDs only imports the files as AAC - this format, however, will not play on all MP3 players. In order to convert AAC to MP3 with Windows, you will need an audio converter such as MAGIX MP3 deluxe. With this program, you can quickly and easily convert the files from AAC to MP3. Just simply drag and drop AAC files into MP3 deluxe and right-click on "Convert". Afterwards, you can conveniently set the output format for converting and the quality of the audio file. Converting AAC to MP3 is done quickly and hassle-free with this audio software from MAGIX. In fact, MAGIX MP3 Deluxe makes it even easier by allowing you to select multiple files to convert to MP3s or OGG at one time.
MP3 deluxe is a great alternative to other audio converters for music lovers - after all the program can do much more than just convert AAC to MP3, WAV, WMA or OGG files. Various export formats are available with this converter such as MP3, WMA, WAV, OGG Vorbis or FLAC. The software can do more than Audiograbber, for example, and can be extremely helpful in organizing your digital music collection. With various search and filter features you can always keep track of your files and song information even with large music archives. You can edit information with a mouse-over or keep it the same even after converting from AAC to MP3. The converter is easy to operate with many convenient and helpful features, such as the option to select your favorite music and insert it into a playlist. When converting AAC to MP3 you can not only set the format but also the bit rate (up to 320 kBit) and when converting multiple tracks you can also set the volume to one common level. You can even adjust the sound effects settings when converting AAC to MP3 files.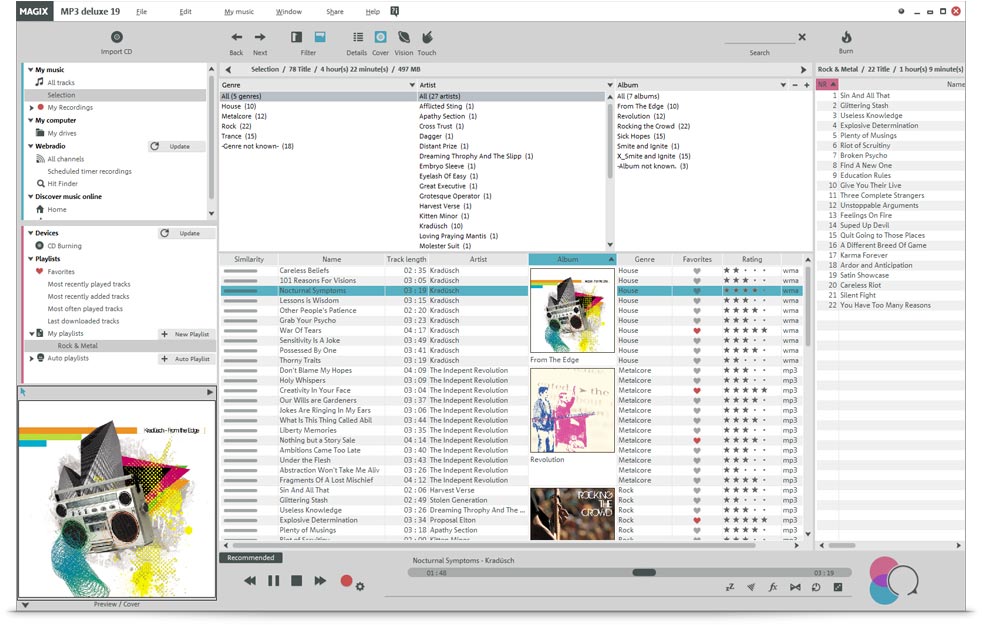 Converting AAC to MP3 made easy: MP3 deluxe.
MP3 deluxe is the ideal software solution for anyone who not only wants to convert audio files, but also organize and optimize them. You can convert audio files to the most common export formats and the batch converting feature will also impress especially in terms of speed and the first-class results. If you want to convert AAC to MP3, WAV, WMA or OGG, the converter MP3 deluxe offers you a high-quality and easy solution.