Accessories for action cams such as GoPro: Must-haves
Whether you're speeding down a mountain on your bike, leaping from roof to roof or sky diving towards the earth - your action cam is always there.
In addition to various mounts, there is a whole range of accessories available for action cams. Nowadays cases, bags and extra batteries, as well as creative accessories such as filters and lenses, are in high-demand. New to this segment are software solutions (e.g. MAGIX Fastcut) which are optimized especially for GoPro and other action cams. Ultimately, your recordings should be just as spectacular as the filmed event itself. The Fastcut software lets you quickly and easily edit and optimize your action footage so you can share it with other extreme athletes, like-minded enthusiasts and the entire online world.This software is a real must-have accessory for action cams such as GoPro. Thanks to various action-themed editing templates, you can spend your time planning new amazing videos instead of editing them.
The market for action cam accessories covers a wide range of areas of application. The standard accessories which have established themselves include not only mounts for attaching cameras to helmets, but also hand-held tripods which can be used when surfing. There are also underwater mounts which can be attached to diving goggles and underwater lamps, both of which have become very popular. There are even mounts for quadrocopters which allow you to film from the air. There are accessories for every situation which make filming easier. It's even possible to attach your action cam to your dog.
Most action cam and GoPro accessories are designed to be used during filming. However, in order to optimize your footage once you're finished filming, it's recommended to use video editing software such as Fastcut. Every action athlete needs to have this accessory because not every action cam recording can be presented online in its original form. When you're filming a new action video, you need to be able to have 100% concentration on the sequences and execution. This means that when you make a jump, you can't also be focused on making sure your camera is held straight and steady. In order to correct shaky footage, remove wind noise and adjust incorrect color settings, you need to have the right accessories.
Fastcut lets you remove shakiness, straighten the picture and remove lens and fisheye distortions. And to make sure you can get back on your board, on your bike or in the air as quickly as possible, Fastcut is outfitted with a proxy editing feature and a Movie Wizard which uses impressive action templates to automatically cut your footage with spectacular music. The action templates are designed for ski runs, bike trips, outdoor footage, surfing scenes, aerial shots and many other occasions. Every action athlete can find the right template for his or her needs. Fastcut also lets you choose whether you want to select your recordings and cut them yourself, or if you would like the software to do all the work.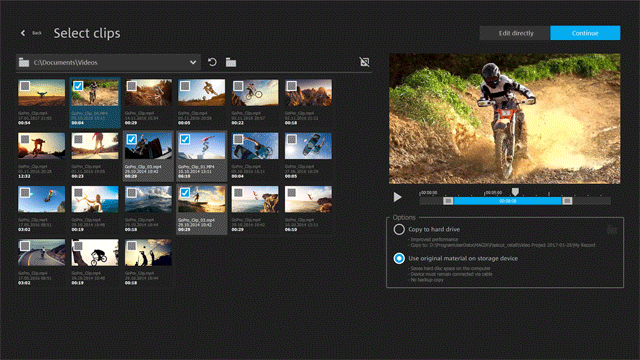 Action cam and GoPro accessories for fine-tuning your videos
The next speed thrill is right around the corner. MAGIX Fastcut enables high-speed editing, optimization and sharing of your videos. Spend your time looking for exciting new locations instead of editing and optimizing your videos. Fastcut is a software accessory designed specifically for GoPro and other action cams.