A new kind of DJ Software – The next level of audio production
The new Music Maker Live Edition audio production software allows anyone to make their own songs and perform them live - even if they don't have any previous experience.
Thanks to the innovative Live Pad mode, which provides you with a range of pre-produced loops from various music genres, virtually anyone can make their own tracks and compose their own music. This feature makes Music Maker Live perfect for DJs, beat producers and musicians.
The advantage in using Music Maker Live Edition over a typical DJ software is the way the program lets you create music. Simply launch Live Pad mode and you're ready to start jamming and experimenting with the pre-produced Live Sets while recording the entire production. You can then throw in additional loops and sounds to the recording using the simple drag & drop controls or add your own melodies by playing the virtual instruments. Top everything off by adding effects, mixing, mastering and saving your project as an audio file. With the Music Maker Live Edition music mixing software, all you need is a Windows PC – there's no need for expensive mixing consoles, record players or other DJ equipment. It's really that simple!
Music Maker Live Edition combines the best of both worlds. On the one hand, the program lets you produce, play and record your own music. On the other hand, you can use Live Pad mode to perform your self-produced songs live. The 16 pads in Live Pad mode can be assigned with loops from various music genres, such as hip hop, rock, dance, EDM and trap.
Each of the 16 pads corresponds to a track in the classic arranger and is filled with loops as soon as the live performance is started. You can also continue working on a live song after the performance is over, making adjustments to structure and samples, recording virtual instruments and adding scratches and vocals. Professional effects and mastering plug-ins make sure you get a final mix which sounds good on any DJ setup. Music Maker Live Edition combines aspects of modern DJ software and elements from classic Digital Audio Workstations with simple controls and workflows. The program makes it possible for anyone to perform music live and get professional results, without any previous experience, sense of rhythm or even being able to read music.
Simply connect your laptop to the mixing console and get started. The only thing left is feeling the vibe in the club or at the party to get your creativity going. Then select the right Live Set and start looping individual song parts and creating sound combinations live on the DJ console. The various Live Sets are available in 7 pitches, letting you create songs with an intro, refrain and bridge by adjusting the melodic progression. If you like how your jam session went, press the record button and save everything as an audio file. Then transfer your song as a WAV or wma file to your playlists on iTunes or MP3 deluxe. Or upload it straight to SoundCloud with just a simple click!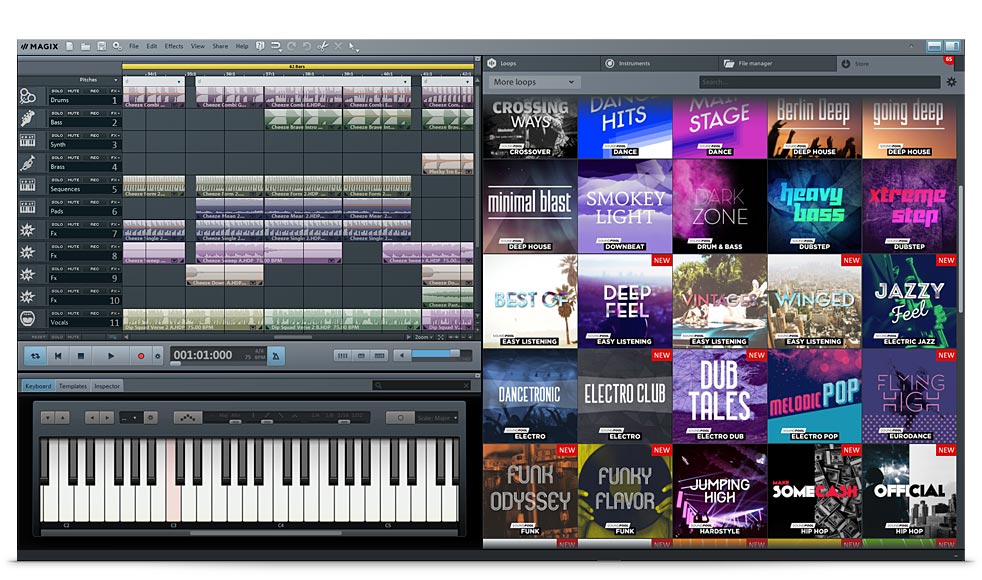 Part music program, part DJ Software.
Music Maker Live Edition lets you produce and mix your own music and perform Live Sets in front of a crowd. DJs and producers can easily create their own sets for Live Pad mode, save them and perform them live on the mixing console. This DJ software is easy to use and offers audio and music fans a range of innovative features for live DJing. Try it yourself!
* With the update service you will receive a full year of free new features and updates, which can be used indefinitely. If you reinstall the program after one year, you will have access to the basic version. After the one-year update service has expired, you can extend it for a discounted price.