The Basics Of A Music Creator
If you dream of being a music creator who can churn out smooth, lyrical tracks in rapid succession, you will need a few essential skills and tools in your arsenal.
You'll need a tuned ear with the alertness to the subtleties of sound which actually isn't as complicated as it sounds, but will immensely helpful while creating music. On top of that, powerful and functional software, like MAGIX Music Maker, will help order your ideas and apply your musical knowledge, however basic or advanced it may be. This is all very helpful and important when making music.
The hallmarks of well-designed music creation software, and software in general, are its ease-of-use and consistently updated functionality. The former will help any user. be it advanced to beginner, to jump into music making as quickly and easily as possible. Clearly placed settings, tools and clips will lower the learning curve for anyone and allow creativity flow naturally without any bumps along the way. The latter will keep the user and his music abreast of the changes and advances in music making capabilities and trends. Music Maker has been specially calibrated to allow for the most efficient and enjoyable workflow and is continually refreshed in every new version. Additionally, there are special editions that allow users to explore the worlds of hip-hop, dance, and rock and even practice preforming your songs and sets live in front of an audience.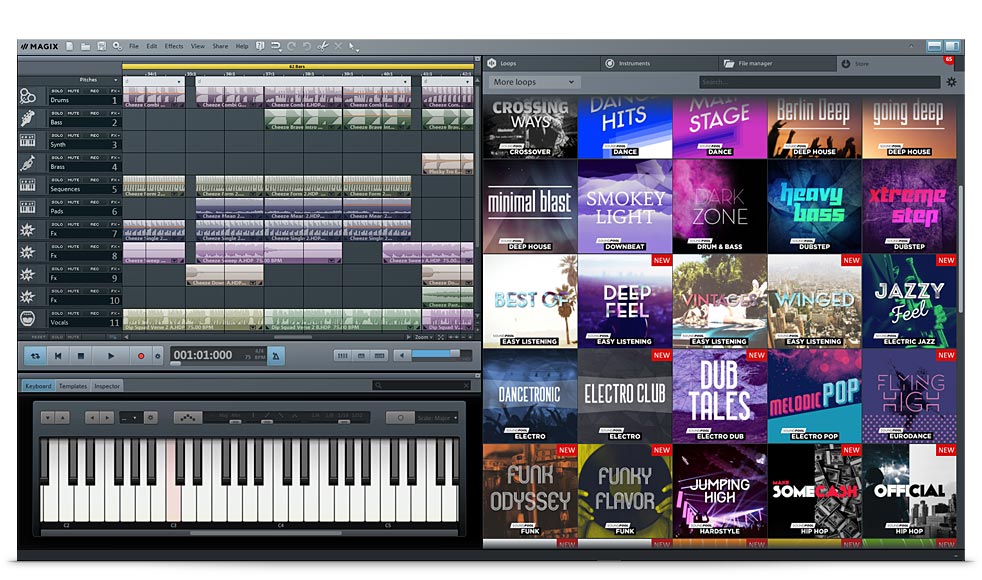 MAGIX Software Will Help Any Music Creator Find His Perfect Band
MAGIX Music Maker can help users produce their own music, even if they have very little experience or resources. With a combination of effects, samples and virtual instruments, Music Maker allows any user to choose between playing their own instruments and assembling a digital band with ease. Each part and position in a band is pre-programmed into the software, so you can make your own music wherever, whenever and with whomever - digitally or in real life!
With the help of integrated MIDI editors, Vita Solo instruments, in addition to thousands of sounds and loops, there is no limit to the musical genres to be explored - the riffs of a smooth saxophone, the notes of a classical grand piano to energetic electronic beats. An array of digital sound effects are all at your disposal and can be used with no musical training required. After your recording session is over, you can easily upload your tracks and share your creative genius with the world. You songs and recordings can be mixed with other favorites using dj software for a fun night or it can also be shared over the internet with easy uploading to Facebook, Myspace, Twitter and Youtube integrated right into the software.
Show everyone how great of a music creator you are! With MAGIX Music Maker and the other music making software from MAGIX, the possibilities are endless allowing you to take music creation to the next level.