Video Editing Made Easy
Video editing has not always been so easy. Though one would think that simplicity has always been one of the primary objectives of creating editing software, it has not always been the case.
For years the only options were painfully complicated programs exclusively intended for professionals. MAGIX saw this problem and realized that it should be the best to fill the void in the market. Since its release, MAGIX Movie Edit Pro has been one of the most beloved programs and has earned countless awards to show for it.
The world of editing has changed since the software's first edition, and MAGIX has updated each subsequent release to always be at the cutting edge and up-to-date with the most recent technology updates. Most recently, Move Edit Pro was the first consumer software to include 3D video editing. This was a triumph for MAGIX but more importantly, it was a continuation of the long tradition of bringing the best to technology to everyone, no matter the skill level.
To keep in line with its philosophy of innovations, MAGIX software is also packed the power of the third dimension into its neatly and simply laid out interface. This emphasis on user-friendliness is what lowers the learning curve and really makes the technology available to everyone.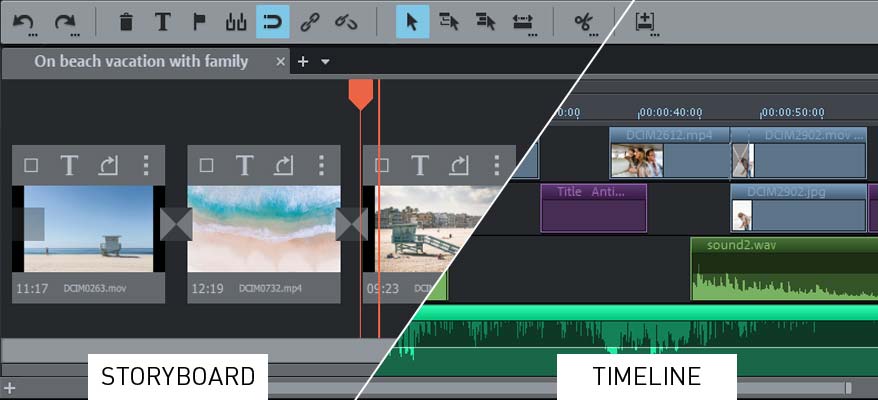 Video Editing with Slow Motion
MAGIX also continually adds new video effects, sound effects and editing options to its already long list of effects and features to ensure that everyone has a satisfying and enriching editing experience. Though this movie effects software has always been well equipped, the new addition of an easy-to-use slow motion effect gives additional opportunities to add interest and variation to your video. Though this may not seem so novel, it has been fine tuned to perfection. In many types of software, the slow motion effect can end up looking grainy and distorted. To ensure better results, the designers added a sophisticated form of frame interpolation to ensure that the shots will be smooth and progress without looking unnaturally digital.
Last but not least, this video editing program ensures that even though you are able to work with perfect slow motion effects, your work will never run slowly; the software is optimized for speed and works great on any Windows computer.
* With the update service you will receive a full year of free new features and updates, which can be used indefinitely. If you reinstall the program after one year, you will have access to the basic version. After the one-year update service has expired, you can extend it for a discounted price.