Edit photos with Xara to create the perfect image
Many people have cameras, but not everyone knows how photos should be edited. The importance of photo editing shouldn't be underestimated when determining how the final image should look. Almost every photo that is published has been edited with photo editing software.
There is a wide range of products available for photo editing with lots of features but how can users know what functions they actually need? This depends on what they want to do with their photos and how much experience they have with photo editing software.
For anyone who is not quite sure what they're looking for, Xara Photo & Graphic Designer is the ideal program. It offers a wide spectrum of functions for photo editing that is intuitive and easy to use. This makes it perfect software for editing photos for beginners and advanced users alike.
Most hobby photographers are initially interested in basic photo editing such as red-eye removal, adjusting color saturation, correcting underexposure or overexposure, improving contrast, cropping etc. With Xara Photo & Graphic Designer all of this can be done manually or completely automatically depending on the user's experience level. In fact, users who want to edit their photos more intensively can quickly reach the limits of most programs but not with Xara software.
Complex retouching functions are available and often with just one click: Use intelligent scaling to adjust the image size without distorting important elements in the picture, apply professional morphing functions to adjust body shapes just like you would with Photoshop, correct converging lines in architecture photography automatically. You can even create impressive panoramas just as easily or apply artistic filters to add unique effects to your images. The possibilities offered by the program are only limited by your imagination.

Even though photos can be edited to make your images look anyway you want with Xara Photo & Graphic Designer, here are a few tips helpful tips to shoot better photos:
Always try for the "golden ratio" (the rule of thirds)
Leave open space in the direction of view
Less at times is often more (this applies to both colors and the number of details)
And most importantly, forget everything you've read and just trust your instincts.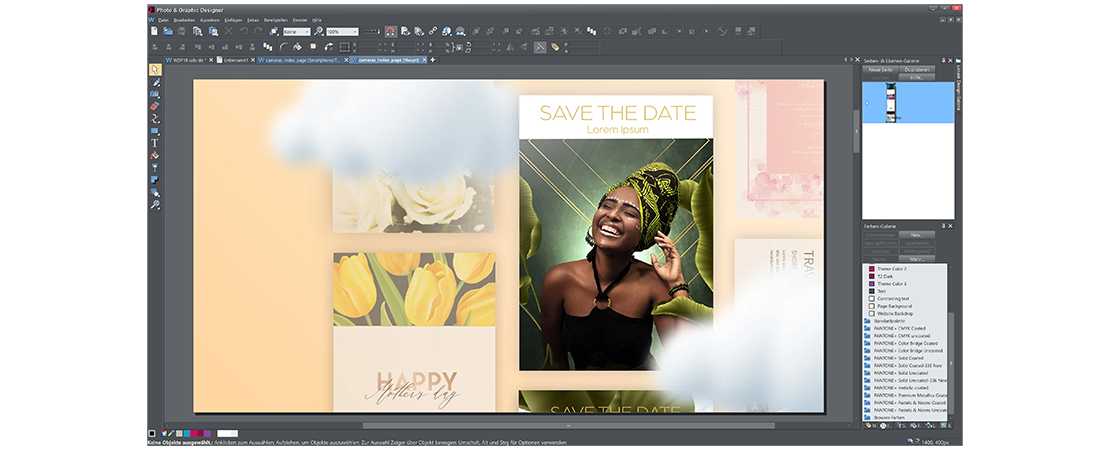 Edit photos with an affordable and fun program
Photo & Graphic Designer from Xara helps beginners and professionals edit their photos and create stunning graphics. It is the perfect solution for anyone who wants to make their photos look better. Try it out now by downloading a free test version!
* With the update service you will receive a full year of free new features and updates, which can be used indefinitely. If you reinstall the program after one year, you will have access to the basic version. After the one-year update service has expired, you can extend it for a discounted price.