Xara photo editing: Resize images, distort them and much more
What photo editing technique would you like to use?

Do you want to resize your images? Edit photos for the Internet, a slideshow or for printing? Rotate, flip and optimize an image? How about changing an image size for picture editing? Maybe even design your own graphics? Or perhaps create a 3D animation?
Whether for simple picture editing or enhancing photos – Xara Photo & Graphic Designer, from the German multimedia software specialist MAGIX, can help all users unleash their creativity and bring their ideas to life. The program is intuitive and easy-to-use thanks to simplified learning curve but still offers a vast selection of powerful editing tools and functions for beginner and pros alike.

A common technique of the photo editing process is resizing images, i.e. making it bigger or smaller. For example, presentations sometimes require smaller image files. This is because the file size plays a crucial role in the speed at which the photos can be viewed. A special photo resizing program isn't necessary for this if you already have Xara Photo & Graphic Designer.
Resizing graphics in Xara Photo & Graphic Designer can also be done with a few simple clicks. Simply click on the element you want to resize and drag on the ends while holding down the mouse button. The size of the object will be adjusted and you can play around with it until you find the size you want. Clicking on the object again displays arrows that can be used to rotate the element. This intuitive and easy workflow is a central characteristic of this picture editing program. Users don't have to struggle for hours with thick manuals before they can start using the program – it's just intuitive!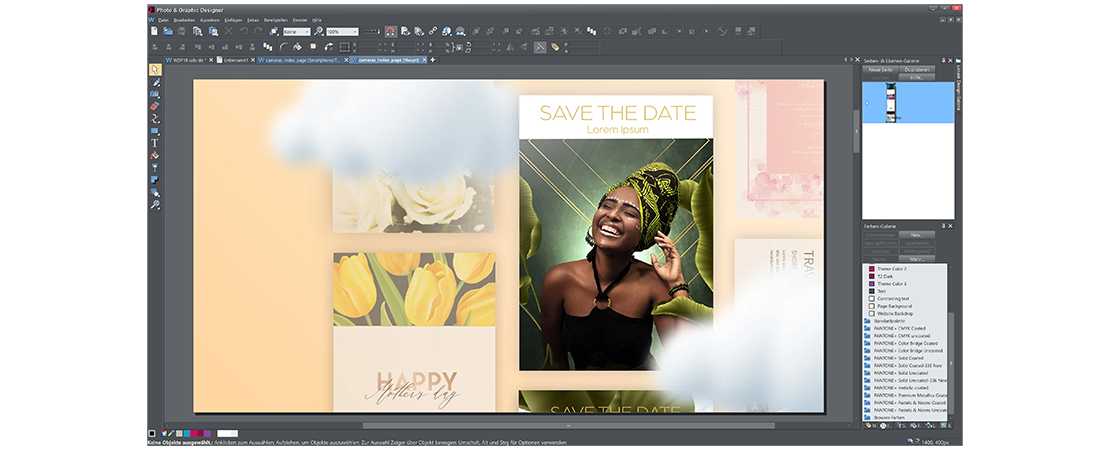 Resize Images: Easy as 1-2-3!
You can also reduce the size of the photo in the save dialog which in turn reduces the size of the file. However, in addition to the number of pixels, the compression rate is always an important factor in the final file size. This makes it very important to find the right compromise between image quality and image size. The best way to do this is to simply try out different configurations on your images until you find settings that work best for you. This program is also perfect for users who like to experiment with their photos. It makes it possible to change the size of your photos and graphics as often as you want. Thanks to the non-destructive functionality of the program, you don't have to worry about any loss in quality. Photo editing doesn't get any easier, more effective or more fun!
All aspects of image editing such as resizing, distorting or creating logos can be performed with the Xara software Photo & Graphic Designer. With this image editing program amazing results are guaranteed. Try it today and experience true creative freedom.
* With the update service you will receive a full year of free new features and updates, which can be used indefinitely. If you reinstall the program after one year, you will have access to the basic version. After the one-year update service has expired, you can extend it for a discounted price.